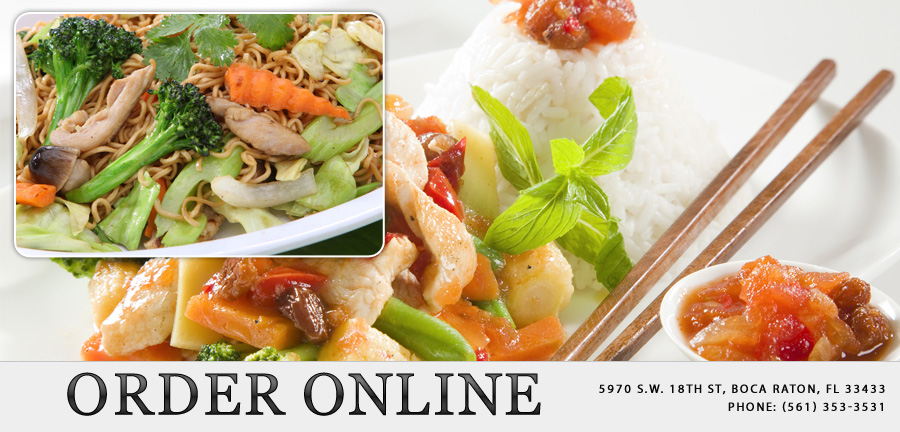 Orient House Express
5970 S.W. 18th St #E2A
Boca Raton, FL 33433
Phone: (561) 368-9999
Having the word "Express" in their name is not in the least bit indulgent. For our delivery was undoubtedly the fastest service we have EVER had! I had barely enough time to take the wine from the fridge and retrieve the chopsticks from the drawer when the doorbell rang. From phone call to digging in could not have been more than 20 minutes. (they also have online ordering if you are so inclined)
As it was our first time ordering from them (and food critics weren't watching) we opted for a few traditional takeout dishes: Kung Pao Chicken, Szechuan String Beans, General Tso's Tofu and Hot/Sour Soup. The dishes arrived steaming hot, but alas, the food itself was pretty standard suburban Chinese fare.
The Kung Pao, which should be spicy and peanutty, was in desperate need of a flavor boost. It had just the barest kick of heat and very little in the way of any depth of flavor. I had to grab some hoisin sauce and black vinegar from the fridge to elevate the dish.
Szechuan string beans were nice and spicy and to the chefs credit, cooked perfectly al dente. In addition, the sauce didn't rely on excessive sugar for flavor which is definitely a bonus. But again the flavor profile was lacking - beyond the blast of heat there just wasn't much else there.
General Tso's Tofu - well, of course, that was delicious! If you can wrap your head around the notion that you are scarfing down an "entree" that is in reality a savory deep fried dessert then this is the dish for you! We gobbled up 5 Huge hunks of Tofu in a super-sweet sauce. We didn't give a hoot about the authenticity of this deep fried deliciousness - it tasted great. (Do we get to count it as healthy if we ordered tofu instead of Pork? don't answer.)
Hot and Sour soup was meh. Again, a trip to the fridge was necessary to give it some oomph. Once I drizzled some much needed sesame oil and a spoonful of some garlicky sambal oelek it was actually pretty good.
We will order from them again when the lazy bones and the hankering for takeout hit us. The food once doctored was good enough and the service was exceptional.